---
MY SCHOOL-DAYS.

By E. NESBIT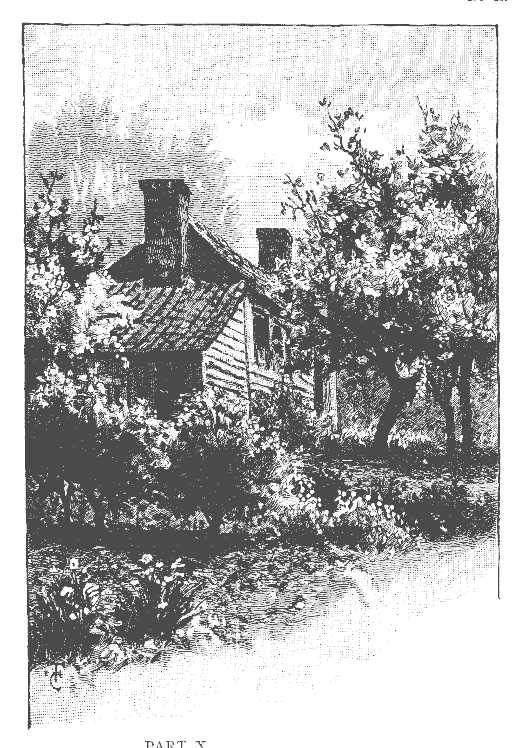 PART X.

PIRATES AND EXPLORERS.
THAT summer was an ideally happy one. My mother, with a wisdom for which I shall thank her all my days, allowed us to run wild; we were expected to appear at meals with some approach to punctuality, and with hands and faces moderately clean. Sometimes when visitors were expected, we were seized and scrubbed, and clothed, and made to look something like the good little children we were not; then my brothers fidgeted awkwardly on their chairs and tried to conceal their hands and feet, while I nibbled a biscuit or cake in an agony of shyness, not quite unrelieved by a sneaking appreciation of my fine dress, an appreciation for which my brothers would never have forgiven me, had I been foolish enough to show it. But, as a rule, we were left to go our own way, and a very happy way it was. I don't mean that we were neglected; my eldest sister was always a refuge on wet days when a fairy story seemed to be the best thing to be had.
In the midst of all the parties, picnics and gaieties in which our elders were plunged, my other sister found time to read aloud to us, and to receive such confidences as we deemed it wise to make concerning our plans and our plays.
We had gauged the possibilities of the lofts correctly. With trusses of hay or straw, a magnificent fort could be made. I usually held the fort when the boys had built it, and the weakness of the garrison was lessened by the introduction of the two dogs, who defended it with me nobly, understanding perfectly the parts they had to play. We got the black pig up once, but that was a failure. When there was no time to organise a play, when it was not worth while to begin anything because dinner or breakfast would be ready in a few minutes, it was a constant delight to scale the wall behind the stable, and watch the great wooden wheel slowly dragged round the circular stone trough where the apples for cider lay; the old, blind, white horse harnessed to the wheel went sleepily round and round; you could hear the crunch, crunch of the apples as the great wooden wheel went over them, and smell the sweet scent of the crushed fruit as you sat swinging your legs on the wall among the yellow stone-crop and sulphur-coloured snap-dragon; or if you had the time to spare, what rapture to balance yourself on the edge of the stone trough, and wall: round it just behind the big wheel, knowing that if you slipped, you might fall on the muddy track outside, but that you were much more likely to fall into the trough itself, in which case your pinafore and stockings (we wore white stockings then) would be richly stained with apple juice to the colour of red rust. If the farmer were in a good temper, he would sometimes take you in to see the apples put in the press; you had to climb up by rough steps cut in the beams if the press was nearly full. At the top, on a little platform, stood the farmer, drawing up the crushed apples from below by bucketsful, and spreading them on their bed of clean straw with a wooden shovel. A layer of straw and a layer of apples, and when the press was full, the big beams screwed down, we hastened below to see the russet juice run out from its stone channel into the great vats.
Though the farm adjoined our house, it was not our property, but as far as we children were concerned, it was just as good as ours, for the farmer allowed us the same privileges that he accorded to his own children; that is to say, if the farmer were in a good temper, we might watch any of the farming operations, if he was not, his own children had to keep out of the way, and so had we.
There was a delightful pond in the field where the farm horses went to drink. It had a trampled muddy shore on one side, and on the other a high bank of yellow clay. We made a raft, of course, out of an old door and two barrels, and successfully sailed across to the yellow cliffs.
"How nice it would be," I said, "if there were a cave in these cliffs; we could have no end of a good time and be pirates and things!"
"You don't suppose," said Alfred scornfully, "that a pirate chief would wait to find a cave if he wanted one - he would make one of course; I shall make one."
"I don't believe you can," said Harry and I in a breath.
"All right," said my brother, "you'll see!"
Next morning when Harry and I went out into the field, there was Alfred, ankle deep in water shovelling out clay from the bank.
"What a big hole you've made," said I. "I believe I could get into it if I curled up very much."
"Ah!" said my brother grimly, "you thought I couldn't do it."
"Do you mean to say you aren't going to let us go shares," said Harry, reading his brother's tone instantly.
"Not a share," said Alfred firmly, "this is going to be my cave, and if I find anyone in it without my leave, I'll throw him to the alligators."
"There aren't any alligators," said Harry, "there are only ducks," and indeed, there were several swimming about the yellow waters of the pond.
"All right," said Alfred cheerfully, sending a large spadeful of clay splashing into the pond, "I'll throw you to the ducks then, I daresay they'll do just as well."
Alfred worked with what seemed to us superhuman vigour, and before evening there really was a hole in the clay bank big enough for him to get into, if, as I said, he curled himself up very much.
"He'll be tired of it to-morrow," said Harry to me privately, reasoning from his former experience of his brother, "and then he'll let us have it." But the next day we found that the roof of the cave had fallen in.
"No one need want to have it now," I said, but I was mistaken. The landslip, while filling up, had enlarged the hole, so that when the loose clay was cleared out, there was a space large enough for us all to have got in, even with the dogs. Alfred twisted some straw into a rope and made it, with string, into a rough mat. This be put at the bottom of his rough cave. I timidly offered to help with this, but my offers were sternly rejected.
"You said I couldn't do it," he said, "and I'll jolly well show you I can."
Harry came to me a little later when I was feeding my rabbits. "He's got it all so nice," he said, "he's roofed it over with a hurdle and he's put a bit of old tarpaulin over it, and he's fastening it down with big stones like the people in the Swiss Family Robinson; I wish he'd let us share in it."
"Look here," I said, "let's walk into town and get him a present, then he'll see we're sorry we said he couldn't do it."
In the broiling sun we walked the five miles into the town and back, returning with a large green sugarstick wrapped in coloured paper which had taken all our half-pence to buy. With this we approached the pond. Alfred was sitting in his cave with the raft moored at his feet; I waved the sugarstick in the air.
"Look here, Alfred," I said "here's a sucre de pomme for you; we've been all the way to Dinan to get it, and we're sorry we said you couldn't."
"You little duffers," he cried, "I don't want your sucre de pomme, I only wanted you to say you were sorry. You needn't have walked five miles in the broiling sun to do that. You'd like to come over, wouldn't you?" he added, unmooring the raft.
"We really didn't mean to vex you," I said, as he came across.
"Not another word," he said handsomely, and rowed us to the cave.
It was a very soft cave, and we had no means of breaking the sucre de pomme, so we took it in turns to suck it; Alfred after some persuasion, consenting to join us in the feast, so as not to hurt our feelings, he said.
That cave was a joy to us for many a day, though there was generally at least half an inch of water in it; and we didn't abandon it till the autumn rains had swelled the pond water, and raised it above the level of our cave.