Forgotten Futures is a table-top role playing game distributed on disk as shareware. It's based on scientific romances, the predecessors of science fiction that were published in the late 19th and early 20th century. Some are intelligent predictions of possible futures, others are at best wild dreams, at worst nightmares. Publishing the game in this form ensures that the stories will stay in circulation into the 21st century, and introduces them to a new generation of readers. Each collection contains game rules, at least two period stories, a worldbook for the stories, adventures, and illustrations.
All of the current shareware material can be read on-line or downloaded as .ZIP files from www.forgottenfutures.com using the links below.
FORGOTTEN FUTURES RULES (original version)
FORGOTTEN FUTURES RULES SUMMARY (original version)
NEW! REVISED AND UPDATED RULES - Single file version
NEW! REVISED AND UPDATED RULES - Multiple file version
NEW! REVISED AND UPDATED RULES - Summary version
NEW! REVISED AND UPDATED RULES - Zip file of all versions
This is an expanded and "cleaned up" version of the Forgotten Futures rules.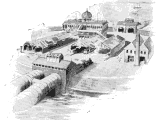 INTRODUCTORY ADVENTURE: TAKING THE TUNNEL
1897. Victoria is on the throne, and it is an unparalleled era for science and technology. Projects that were once dreams are coming to fruition; chief amongst them is the Channel Tunnel, begun in 1875, endlessly delayed by politics and inept management, but finally opened today. The Queen herself has made a rare public appearance to cut a ribbon at the English end and travelled to France aboard the Royal Train. After a reception in Calais she is about to return to Windsor. Travel with her if you dare...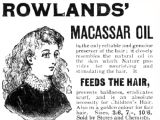 THE FORGOTTEN FUTURES COMPENDIUM
A collection of adventures and adventure outlines that for one reason or another didn't make it into any of the previous game releases. Includes The League of Extraordinary Geometers, a crossover with The Original Flatland RPG; Curse of the Leopardmen by Alex Stewart; and The Advertising Supplement, a collection of Victorian and Edwardian advertisements and adventure ideas. Note: As an experiment this material is currently available in PDF form only - an HTML version will be added if there is demand for it.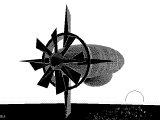 FORGOTTEN FUTURES I: THE A.B.C. FILES
A role playing game set in Kipling's 21st century airship utopia. Contains the text of With The Night Mail and As Easy As A.B.C., rules, a worldbook, an adventure, a spreadsheet of airship data, and 31 illustrations. Includes ASCII text and monochrome .GIF files, plus grey-scale graphics from the original publication of With The Night Mail.
Disk requirement 2 Mb.
Now includes colour illustrations from the chap-book publication of With The Night Mail, and monochrome illustrations from its magazine appearance.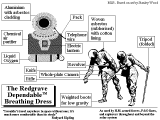 FORGOTTEN FUTURES II: THE LOG OF THE ASTRONEF
A comprehensive guide to the exploration of the Solar System in 1900 AD. Based on George Griffith's Stories Of Other Worlds, it contains six stories, the illustrations from their original publication, a worldbook taking the story forward to 1920, a spaceship design spreadsheet, five adventures, and more. Forgotten Futures II contains ASCII text files, grey scale .GIF files, and spreadsheet templates. Now incorporates the novelisation, A Honeymoon In Space and its extra illustrations.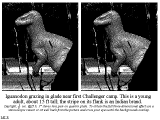 FORGOTTEN FUTURES III: GEORGE E. CHALLENGER'S MYSTERIOUS WORLD
Adventures with Sir Arthur Conan Doyle's scientific hero, including the full text of The Lost World, The Poison Belt, When The World Screamed, The Land Of Mist, The Horror Of The Heights, and The Disintegration Machine, a worldbook, four adventures, a wargames scenario, full games rules and templates, 34 monochrome .GIF files, 4 Lotus 123 templates, etc.
Disk requirement 2.5 mb.
Note: Now includes all illustrations from the original publication of The Lost World in The Strand Magazine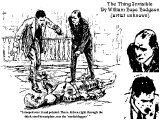 FORGOTTEN FUTURES IV: THE CARNACKI CYLINDERS
Horror and the supernatural in Edwardian England, including the original text and illustrations for William Hope Hodgson's Carnacki The Ghost Finder, a worldbook with rules for magic and the Ab-natural, three adventures and two long outlines, a story-telling card game, and much more.
Disk requirement 1.9 mb.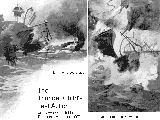 FORGOTTEN FUTURES V: GOODBYE PICCADILLY...
The destruction of London, as seen by a variety of authors around the turn of the century. See London succumb to volcanoes, snow, fire, Yankee commercialism, and other disasters. Contains all the usual games material, several stories, articles, etc.
Disk space requirement 2.09 mb.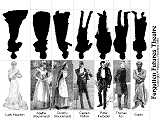 FORGOTTEN FUTURES VI, VICTORIAN VILLAINY,
A roleplaying game for Victorian and Edwardian melodrama and melodramatic fiction.
Fiction on the disk includes three melodramatic plays (The Bells and versions of The Vampire and Frankenstein), the first volume of E.W. Hornung's Raffles stories, and the novel A Bid For Fortune, which introduced the villainous Dr. Nikola, the prototype for Carl Peterson, Blofeldt, and Dr. Doom. He even has a cat...
Role playing material includes the game rules, a worldbook containing rules for theatrical and melodramatic campaigns, player character Heroes, Villains, and Romantic Leads, etc.
There are three long scenarios and eight adventure outlines. By courtesy of Steve Jackson Games there are also six printable sheets of "Cardboard Hero" style figures for the main characters of the adventures.
Disk requirement is about 2.55 Mb. Files are HTML & .GIF/.JPG graphics
Note: The FF CD-ROM adds fifty illustrations for A Bid For Fortune, the second Doctor Nikola novel (imaginitively entitled Dr. Nikola), and more Raffles stories including the rare novel Mr. Justice Raffles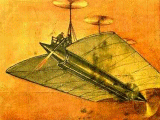 FORGOTTEN FUTURES VII, TSAR WARS
Based on two major novels by George Griffith (FF II), The Angel of the Revolution and Olga Romanoff.
In The Angel of the Revolution, written in 1893 and set in 1904, the Terror, a socialist and anarchist alliance, uses its flying ships and the opportunities presented by a war between Russia and Britain and her allies to conquer most of the world and bring about a socialist utopia. In Olga Romanoff, written in 1893-4 and set in 2030-37, the last inheritor of the Tsar takes her devastating revenge. Both are lavishly illustrated by Fred T. Jane of Jane's Fighting Ships fame.
Role playing material includes a long worldbook describing the history of the Revolution and its aftermath, the revolutionary base in the African "lost world" of Aeria, the final war and the end of the world. It includes rules for air-ship, war-balloon, and submarine construction and combat, the mysterious Vril force, contact with the higher intelligences of Mars (plus a section describing a campaign fusing elements of FF II and FF VII), and much more. The worldbook also includes war-gaming material by Matthew Hartley (author of many war-games including Aeronef, which was partly inspired by George Griffith's novels)
There are three long adventures and five adventure outlines. By courtesy of Steve Jackson Games there are also four printable sheets of "Cardboard Hero" style figures for the main characters of the novel and soldiers of the Terror and the Tsar.
Disk requirement is about 3.0 Mb. Files are HTML and .GIF/.JPG graphics
Note: The FF CD-ROM release 3.0 onwards adds larger versions of the illustrations from both novels and supporting material including an extra novel, The Coming Race by Lord Lytton, which was an important source.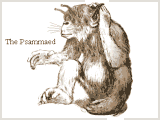 FORGOTTEN FUTURES VIII, FABLES AND FROLICS
FF VIII is based on Victorian children's fantasy and especially the stories of Edith Nesbit. The collection includes the three "Psammead" novels: Five Children and It, The Phoenix and the Carpet and The Story of the Amulet, 23 short stories, and a series of autobiographical articles describing Nesbit's childhood. Role playing includes extensive material on Victorian and Edwardian childhood, magic rules, and various settings for magical campaigns, and three long adventures.
Note: Due to European copyright problems the stories do not include their original illustrations by H. R. Millar; instead they are illustrated by more than 150 copyright-expired and new pictures.
Disk requirement is about 4.25 Mb. Files include HTML, .gif and .jpg graphics, and .wav sound files. No "Scratch n' Sniff" yet, but I'm working on it...

Download as 2.61 mb zip file - Link to full on-line version above.
I've added an extra novel, Nesbit's Wet Magic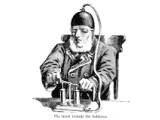 FORGOTTEN FUTURES IX, IT'S MY OWN INVENTION
FF IX is a collection of role playing settings based on stories, articles and novels about weird technology. Themes include flight (and a war against a supernatural foe), automata and calculating engines, space travel, and time travel. Source material includes two novels by George Griffith, The Outlaws of the Air and The World Peril of 1910, plus short stories and articles by a variety of authors. Disk requirement is 5.1mb.

Download as 3.66 mb zip file - Link to full on-line version above.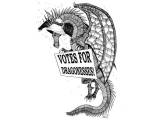 FORGOTTEN FUTURES X: THE TOOTH AND CLAW ROLE PLAYING GAME
FF X is a new departure for the system - an authorized game based on Jo Walton's World Fantasy Award-winning novel of dragons in a quasi-Victorian setting. It contains everything needed to play including background, complete rules for dragon adventurers, and two long adventures plus several outlines. PDF and HTML versions.
The distribution CD-ROM, containing FF X plus approximately 18mb of material from the FF CD-ROM plus Melies' A Voyage to the Moon and the silent version of The Lost World, has been sent to registered users and can be ordered as the new Forgotten Futures Charity CD-ROM.
Follow the link above for download options.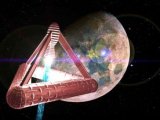 FORGOTTEN FUTURES XI: PLANETS OF PERIL
A complete and detailed RPG setting based on Stanley G. Weinbaum's 1930s SF, the Planetary series of stories. Includes details of the worlds and aliens of the solar system, space travel by atomic rocket, rules for romantic SF adventures, and much more. There's a comprehensive adventure campaign with three long adventures, twenty adventure outlines, and much more. Extra files include 23 stories and novels by Weinbaum, deck plans for a spaceship, a mobile factory, and a research submarine, and a spaceship design spreadsheet.
FORGOTTEN FUTURES SPREADSHEET TEMPLATES
Templates covering a range of topics including character generation, a perpetual calendar, currency converter, spaceship design and travel times (FF2), etc. For Lotus 123, Excel, and Claris Works.
FORGOTTEN FUTURES CHARACTER GENERATOR
A Java character generator for Forgotten Futures by Andy Coombes.
THE FORGOTTEN FUTURES CD-ROM
Version 7.0 is now available. It contains all of the material previously sold on disk as the Forgotten Futures Library, all of the game material published to date plus extras such as a Flatland RPG, a huge library of period illustrations, and dozens of novels, stories, and articles. Many files have been updated and numerous errors corrected for the new release.