The first release of these rules was originally converted to HTML by Stefan Matthias Aust, to whom many thanks.
| | |
| --- | --- |
| 1D6 | Roll one dice (one die if you feel pedantic) |
| 2D6 | Roll two dice and add the numbers |
| BODY | A characteristic, often abbreviated as B. |
| MIND | A characteristic, often abbreviated as M. |
| SOUL | A characteristic, often abbreviated as S. |
| Effect | Numerical rating used to calculate the damage caused by weapons and other forms of attack. |
| Average of.. | Add two numbers (eg characteristics) and divide by two. Round UP if the result is a fraction. Usually abbreviated as Av, e.g.AvB&S |
| Half of.. | Divide a number (usually a characteristic) by two and round UP. Usually shown as /2, e.g.B/2, 1D6/2 |
| Half average.. | Some skills are based on half the average of two characteristics. Add the characteristics, then divide by 4, then round up. e.g.AvB&S/2 |
| +1 | Add 1 to a dice roll or other number. |
| +2 | Add 2 to a dice roll or other number. |
| -1 | Subtract 1 from a dice roll or other number. |
| -2 | Subtract 2 from a dice roll or other number. |
| 2+, 3+, etc. | 2 or more, 3 or more, etc. |
| Round | A flexible period of time during which all PCs and NPCs can perform actions. In combat a round is a few seconds, in other situations it might be a few minutes or hours. |
| Optional Rule | This means exactly what it sounds like; something that can be tacked onto the game if you want to use it, but isn't essential for play. Usually optional rules add extra realism, but make life harder for players or the referee, or involve complexities which you may wish to avoid. Most of the appendices are optional rules. |
| FF | Forgotten Futures (what else?) |
| FF I, II, etc. | Forgotten Futures I, II, etc. |
Each player will need at least one character, whose details should be recorded. You can use the HTML record form provided, one of the rather pretty .pdf record forms that were originally part of the printed version of the game, a spreadsheet template, or just write everything down on scrap paper. The example to the right shows the format that's generally used.
Players should record their names and the name (including any title or rank), sex, and age of the character. They may wish to give their characters aristocratic or military names and rank, academic honours, and the like; the referee must decide if this will cause problems.
Sex (Male or Female, and [optionally] sexual orientation) may be important in some game settings. Most scientific romances are based on ideas current in the early 20th century, and there are very few prominent female characters, apart from swooning maidens and an occasional competent scientist's daughter. It is rare to see a woman attain any influential business or academic status. In this setting a male adventurer is probably most useful. In a civilisation derived from a successful suffragette revolt women might have all the power, with men down-trodden or enslaved. In most scientific romance settings homosexual characters will encounter severe social problems.
Age is usually unimportant for adult characters; exceptionally young or old characters may be at a social disadvantage, otherwise there is no effect in game terms.
For "profession", write in something appropriate to the game setting; the referee should tell players if they have made an unsuitable choice. Since this game is based on a wide range of backgrounds almost anything might be useful.
Try to avoid professional ranks that will give players too much power, or restrict them too badly. A member of the Royal family is an example of both; someone accompanied by three or four detectives and a small army of servants can't personally be very adventurous. Wealthy characters are perfectly acceptable, but should not be able to buy their way out of every problem. Avoid occupations that restrict character freedom and mobility; an obvious example is a slave or a serf, but a clerk with no money, a businessman with a full work schedule, or a mother tied down by young children aren't much better off.
The next sections of the record are completed using character points.
Under this system Lady Janet would need to spend eight points to get her special advantages. Use it if players seem to want to take unfair advantage of the referee. Referees who can take care of themselves are advised to omit it! One of the appendices covers more options for character background and traits.
The weapons section is used to record weapons that the character routinely carries. The columns list the weapon's name, whether it is capable of multiple attacks, the Effect number which determines how much damage it can cause, and the results of any damage caused. For now it isn't necessary to worry about the use of this system; it's explained in the section on combat below. Weapons are also listed below.
The section marked "Wounds" is left blank for use during play. Note that this is the wound chart for humans and animals of roughly human size and toughness; some animals use different charts.
BODY represents general physique, well-being, stamina, and speed. If characters expect to spend a lot of time in combat, or performing manual labour, BODY should be high. Inanimate objects also have BODY. BODY is NOT necessarily indicative of size or weight; it's possible for something to be physically small or light and still have high BODY (e.g. a bantam weight boxer, a steel key), or big and have low BODY (e.g. a fat invalid, a greenhouse).
MIND covers all mental skills and traits including intelligence, reasoning ability, common sense, and the like. Anyone in a skilled job probably needs high MIND. MIND is also important in the use of most weapons.
SOUL covers artistic abilities, empathy, luck, and spiritual well-being. If SOUL is low the character should be played as aloof, insensitive, and unlikeable (as in the phrase "This man has no soul"); if high, the character does well in these areas. It is also used for other forms of human interaction, such as fast-talking, acting ("A very soulful performance"), and other arts (including martial arts). If your SOUL is low better not try to con anyone, and forget about learning baritsu or karate.
Normal human characteristics are in the range 1-6, with 1 exceptionally poor, 3 or 4 average, and 6 very good, the top percentile of normal human performance. Player characters may have characteristics of 7 at the discretion of the referee ONLY; this is freakishly good, far better than normal human performance. For example, a gold-medal Olympic athlete might have BODY [7], a Nobel Prize winner MIND [7].
Characteristics cannot normally be improved; under really exceptional circumstances changes might be allowed, but this is a once in a lifetime event. For example, someone discovering the fountain of eternal youth might gain extra BODY, but there should be a price to pay; reduced MIND or SOUL, hideous deformity, and the like. In the unlikely event of an increase in any characteristic, any skills already derived from it (see below) should be recalculated and (if necessary) improved.
Characteristics may sometimes be reduced. For instance, someone crippled after a fall might lose BODY, someone suffering a severe head injury might lose MIND. SOUL might be damaged by insanity or drug abuse. If any characteristic is reduced, recalculate the values of all skills derived from it.
Skills are initially calculated from one or more characteristics, with the number of points spent added to the result. For instance, Marksman (the use of all forms of hand-held firearm and other hand-held projectile weapons such as crossbows) is based on MIND. Acting is based on an average of MIND and SOUL. Skills may be raised to a maximum value of 10.
The table shows the effects of wounds. Temporarily reduce the value of BODY and BODY-related skills by the value shown, but not below a minimum of 1.
---
Medical Skills, Recovery, and Death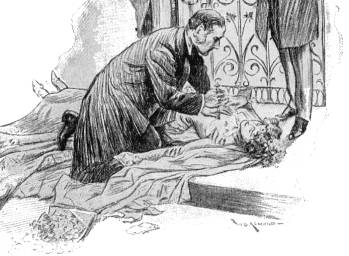 First Aid stabilises wounds and prevent them getting worse. On a successful roll against the recovery Difficulty of the wound, there is no possibility of deterioration. For example, this might involve splinting a broken leg, disinfecting and bandaging a wound, or putting cold tea (a common Victorian remedy) or ice onto a burn. Multiple wounds must be treated separately; for instance, someone with a Flesh Wound and an Injury, or with two Injuries, would need each treated separately.

Without first aid the wound may eventually deteriorate; roll the recovery Difficulty against the patient's BODY, if the result is a success the wound will get worse. Flesh wounds become Injuries and Injuries become Critical (usually as fevers and illnesses such as gangrene) if they get worse.

The Doctor skill acts like First Aid, and also speeds healing. If a successful roll is made recovery time is halved. Since the Doctor skill usually begins at a lower level than First Aid, devoted healers may wish to take both skills.

To recover from wounds without medical help, roll BODY against the recovery difficulty - AFTER the minimum recovery period. If the result is a success, the wound is healed. If the result is a failure, the illness drags on for another period before the roll can be made again.
Example: It's Only A Flesh Wound...(2)
Lady Janet has a flesh wound. She bandages it herself, using First Aid [5] against recovery Difficulty [4]. On a 9 she doesn't do a good enough job of cleaning the wound and applying pressure to prevent further bleeding.
She rolls BODY [3] against Difficulty [4]. On a result of 10 the wound gets worse; by the time she reaches help Lady Janet is bleeding severely, and must spend some time in bed. Her doctor fails to help, so her first roll for natural recovery is made after a month. Fortunately she succeeds and finally heals.
Death is death, and is usually permanent. In some settings there may be some rationale for reanimation or resurrection, but in most games there is no recovery. The referee should explain if this applies.
Some examples of common forms of injury follow the combat rules below; they are clearer if you understand some details that are introduced in the combat rules.
---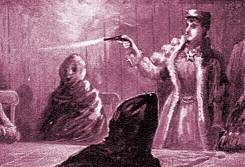 The combat rules take up a large chunk of this file; this does NOT mean that they are the most important aspect of the game - it just means that they are a little more complicated than other sections. DON'T make the mistake of thinking that every adventure must involve several fire-fights!
These rules borrow an idea that is found in some war games. All the events in a combat round occur simultaneously. If ten people are firing guns, all of them fire BEFORE the results are assessed. You can shoot a gun out of someone's hand, but he will have a chance to shoot you before he loses it. Attacks are usually a use of skill against a defence; if the attack penetrates the defence, the damage is determined by use of the attack's Effect against the BODY of the target. All of these concepts are explained in more detail below.
---
Combat Rounds
A combat round is a period of approximately five seconds in which combat occurs. In this time punches might be exchanged, shots fired, and so forth.

The following things can be done in a combat round
Movement.
A normal human can walk about ten feet, or run twenty. On a Difficulty 6 BODY or Athlete roll, or on expenditure of a bonus point, this can be pushed to thirty feet.
OR
An action, such as ducking for cover or opening a door.
Referees may OPTIONALLY allow two actions, or an action and a movement, in a round; for instance, opening a door and diving through.
THEN
An attack, or several attacks with some weapons and skills.
THEN
Wounds take effect.
If you don't want to move or perform any action apart from the attack itself there is a bonus on the attack, but you do NOT fire first.

Anyone taken completely by surprise CANNOT fight, move, or dodge in the first round of combat, but CAN perform a simple action. For example, intruders would have a round to attack someone who was standing a few feet from an alarm button; he would not have time to get to it first. They could not stop him pressing the button if he already had his hand on it. By definition, someone with a weapon in his hand pointed at an attacker is NOT taken by surprise!
---
Resolving Attacks
Attacks are resolved in the following stages:
All players should state who or what they intend to attack; the referee should explain who NPCs are attacking. This should be done before any attacks are made.
Each character and NPC attacks the chosen target. Roll the attacking skill or characteristic against a defending skill, or against a difficulty number of 6 if there is no better defence available. There are various modifiers for distance etc.
If the roll to hit succeeds, the Effect of the attack is used to attack the BODY of the victim. Damage is calculated according to the success of this roll.
---
Rolling To Attack
One modifier may need explaining, since it is frequently misunderstood; machine guns are a little less accurate than other firearms, but more than make up for it by firing LOTS of bullets, increasing the chance of a hit over that for a normal gun. This is the main reason why automatic weapons are used. The idea that machine guns rarely hit and do less damage than other firearms is a myth. Even when used for single shots they are no less accurate than other weapons of similar size.
Some attacks can be used via two or more skills; for example, a longbow might be used via the Marksman or Martial Arts skill, a club via the Brawling or Melee Weapons skill. Use whichever skill is best. If all else fails weapons may be used via characteristic rolls; these are usually poorer than skills.
Defences may also be based on skills or characteristics; for example, someone might try to avoid an arrow by ducking (BODY versus the attacking skill), by hiding (Stealth skill), or by use of the Martial Arts skill to catch it! If no better skill is available, the basic defending value is 6.
If the result of any attack is a success, some damage occurs. Roll for damage as described below.
All attacks have an Effect number. For hand-to-hand weapons, martial arts, and other unarmed combat skills it is either the skill level or the user's BODY plus a bonus; for example, a club gains most of its power from the user's strength, and has an Effect equal to the user's BODY +1. A fencing foil, like all swords and daggers, has an Effect equal to Melee Weapon skill. For firearms the Effect number is usually intrinsic to the weapon, and thus independent of the user's skill or BODY.
Damage is determined by using the Effect number to attack the target's BODY. The result of this roll will sometimes be a failure; this is interpreted as minimal damage for the weapon, from column A of the weapons table. While this is always preferable (for the victim!), many weapons have a flesh wound or worse as their minimal damage.
If the result is a success, but more than half of the result needed for a success, check column B of the weapon table.
If the result is a success, and the dice roll is less than or equal to half the result needed for a success (round DOWN), check column C of the weapon table. If in doubt, use the table to the right to calculate which damage column is used.
It isn't possible to limit damage with shotguns, machine guns, or area effect weapons such as explosives or flame throwers, or with ANY attack on multiple targets.
If it is used, someone who rolls to hit a target without trying to hit a specific area should roll 2D6 for a random hit location as indicated above, and modify the Effect accordingly.
It is not possible to attack a specific hit location with machine guns or area effect weapons such as grenades, or while performing any form of multiple attack. Damage from these weapons should attack random hit locations.
---
Armour
The list to the right includes some modern armour as well as equipment that might be available in the late 19th century. The level of protection depends on the type of armour. Naturally only the area covered by the armour is protected; for example, motorbike leathers cover the torso, arms, and legs, but don't protect the head. A full-face crash helmet protects the head only. Similarly, body armour doesn't protect limbs or the head.
Remember also that armour is usually heavy and conspicuous, especially in a modern city. It will soon attract attention, both from the public and from the authorities.
Some of the weapons shown have very high effect numbers, which go well off the "attack versus defence" table. This usually indicates an attack which will do maximum damage unless a 12 is rolled, or the effect number is somehow reduced; for example by distance (e.g. explosives), by the damage being spread to cover several targets (mini gun), or by armour.
Note that most unarmed attacks and some weapon attacks don't show death as a possible outcome; it simply isn't very likely in the course of a fast-moving fight. Referees should feel free to ignore the suggested result in unusual conditions; for example, if someone is attacked by a mob, while unable to resist, or is completely outmatched by his attacker.
What's the BODY of a door? Of a bottle? Of the Queen Elizabeth? How much damage can a rabbit take (or dish out); a rhino; a blue whale? This section contains data on a range of common and uncommon objects, plants, and animals, which characters may conceivably encounter in the course of play.
Animals

Rat
BODY [1], MIND [1], SOUL [1]
Brawling [1]; Bite, Effect 1, Damage A:B, B:B, C:F
Wounds: Any wound kills
Rabbit
BODY [1], MIND [1], SOUL [1]
Brawling [1]; Kick, Effect 1, Damage A:-, B:B, C:B
Wounds: B[ ] F[ ] C[ ] (Any Injury result is Critical)
Domestic Cat
BODY [1], MIND [1], SOUL [1]
Brawling [4]; Claw, Effect 2, Damage A:B, B:F, C:F
Wounds: B[ ] F[ ] C[ ] (any Injury result is Critical)
Small Dog
BODY [2], MIND [1], SOUL [1]
Brawling [3]; Bite, Effect 4, Damage A:B, B:F, C:F
Wounds: B[ ] F[ ] I[ ] C[ ]
Big Dog
BODY [3], MIND [1], SOUL [1]
Brawling [5]; Bite, Effect 5, Damage A:B, B:F, C:I
Wounds: B[ ] F[ ] I[ ] I[ ] C[ ]
Rottweiler
BODY [4], MIND [1], SOUL [1]
Brawling [7]; Bite, Effect 6, Damage A:F, B:I, C:C
Wounds: B[ ] F[ ] I[ ] I[ ] C[ ]
Note that the stealth of animals (especially small animals) is often considerably higher than BODY/2. Customised dogs and canine adventurers are discussed in an appendix below.
Cobra
BODY [2], MIND [1], SOUL [1]
Brawling [6]; Poison, Effect 8, Damage A:I, B:C, C:K
Wounds: B[ ] F[ ] I[ ] C[ ]
Anaconda
BODY [6], MIND [1], SOUL [1]
Brawling [7]; Wrestle, Effect 8, Damage A:I, B:I, C:C
Wounds: B[ ] F[ ] I[ ] I[ ] C[ ]
Lion or Tiger
BODY [7], MIND [1], SOUL [1]
Brawling [9]; Bite, Effect 9, Damage A:F, B:I, C:C/K
Wounds: B[ ] F[ ] I[ ] I[ ] C[ ]
Horse
BODY [7], MIND [1], SOUL [1]
Brawling [4]; Kick, Effect 7, Damage A:B, B:F, C:I/C
Wounds: B[ ] F[ ] I[ ] I[ ] C[ ]
Bull
BODY [8], MIND [1], SOUL [1]
Brawling [10]; Horns Effect 10, Damage A:F, B:I, C:C/K
Wounds: B[ ] F[ ] I[ ] I[ ] C[ ]
Bear
BODY [8], MIND [2], SOUL [2]
Brawling [10]; Claws/Bite, Effect 10, Damage A:F, B:I, C:C/K
Wounds: B[ ] F[ ] I[ ] I[ ] C[ ]
Armour thick fur -1 Effect
Rhino
BODY [9], MIND [1], SOUL [1]
Brawling [10]; Horn, Effect 10, Damage A:F, B:I, C:C/K
Wounds: B[ ] F[ ] I[ ] I[ ] I[ ] C[ ]
Armour thick skin, -2 Effect all attacks
Elephant
BODY [10], MIND [2], SOUL [2]
Brawling [6]; Tusks, Effect 10, Damage A:F, B:I, C:C/K
Wounds: B[ ] F[ ] I[ ] I[ ] I[ ] C[ ]
Armour thick skin, -2 Effect all attacks
Alligator or Crocodile
BODY [8], MIND [1], SOUL [1]
Brawling [8]; Bite, effect 8, Damage A:F, B:I, C:C/K
Wounds: B[ ] F[ ] I[ ] I[ ] C[ ]
Armour thick skin, -3 Effect all attacks
Dolphin or Porpoise
BODY [8], MIND [3], SOUL [2] *
Brawling [8]; Butt, Effect [8], Damage A:B, B:I, C:C/K
Wounds: B[ ] F[ ] I[ ] I[ ] C[ ]
Killer Whale
BODY [15], MIND [3], SOUL [2] *
Brawling [12]; Bite, Effect 15, Damage A:I, B:I, C:C/K
Wounds: B[ ] F[ ] I[ ] I[ ] I[ ] C[ ]
Armour thick blubber, -2 Effect all attacks
Blue Whale
BODY [25], MIND [3], SOUL [2] *
Brawling [10]; Butt, Effect 20, Damage A:I, B:C, C:K
Wounds: B[ ] F[ ] I[ ] I[ ] I[ ] I[ ] C[ ]
Armour thick blubber, -3 Effect all attacks
* If dolphins and whales are intelligent in your campaign, you may wish to change MIND and SOUL ratings and add more skills, such as Linguist or Actor (singer).
Tyrannosaur
BODY [15], MIND [1], SOUL [1]
Brawling [15]; Bite, Effect 16, Damage A:I, B:C, C:K
Wounds: B[ ] F[ ] I[ ] I[ ] I[ ] C[ ]
Diplodocus
BODY [20], MIND [1], SOUL [1]
Brawling [15]; Butt, Effect 16, Damage A:B, B:I, C:C/K
Wounds: B[ ] F[ ] I[ ] I[ ] I[ ] C[ ]
Dinosaurs are discussed in considerably more detail in the worldbook for FF III.

Plants

Cabbage
BODY [1]
Sapling
BODY [3] **
Young tree
BODY [8] **
Large tree
BODY [10-20] **
Giant redwood
BODY [30-50] **
Giant flytrap
BODY [8], Bite Effect 6,
Damage A:B, B:F, C:I
** Axes attack a portion of the BODY of a tree equivalent to the Effect of the weapon. For example, an axe with Effect 6 attacks 6 BODY of the tree, succeeding on a 7 or less. If successful, that much of the BODY of the tree is destroyed. Some trees have thick bark which may act as armour, or other defences.

Everything Else

Internal Door
BODY [6], lock Difficulty [4]
Street Door
BODY [8], lock Difficulty [5]
Church Door
BODY [12] Lock Difficulty [8]
Piggy Bank
BODY [1], Lock Difficulty [2]
Household Safe
BODY [10], Lock Difficulty [10]
Bank vault
BODY [20] Lock Difficulty [15]
House
BODY [20]
Warehouse
BODY [75]
Skyscraper
BODY [200]
Household Table
BODY [6] (wood)
Household Chair
BODY [3] (wood)
Armchair
BODY [4]
Garden table
BODY [8] (iron)
Garden chair
BODY [8] (iron)
Park bench
BODY [8] (wood & iron)
Bottle
BODY [1]
Motorbike
BODY [4] (1900s)
Car
BODY [10]
Truck
BODY [15]
Bulldozer
BODY [20]
Tank
BODY [25]
Armour reduces Effect all attacks -8
Liner
BODY [100]
Airship
BODY [50]
Spaceship
BODY [100]
Many of the Forgotten Futures collections describe vehicles including dirigibles (FF I, FF VII), various types of spacecraft (FF II, FF IX) and flying machines (FF II, FF III, FF VII, FF IX), and time machines (FF IX). Usually these descriptions add considerably more detail!
SO far these rules have said a lot about rolling dice, but little about the real meat of a role playing game; the opportunity to take on a completely different personality in a world of the imagination. Since most scientific romances were written by Victorians and Edwardians, characters have a tendency to fall into stereotyped behaviour which isn't necessarily changed if they are set in the future. Here are a few of the principal elements of this behaviour:
People in inferior positions accept that they are underlings. They are happy to be employed; the idea of bettering their position, over and above promotion within their workplace, is somehow abhorrent. This attitude is especially prevalent amongst servants and others in intimate contact with their social "superiors". For examples see the roles played by Eric Sykes in "Monte Carlo Or Bust", Peter Falk in "The Great Race", and Gordon Jackson in "Upstairs, Downstairs".
In contradiction to the above, the Protestant Work Ethic is also very popular. This says that if you work hard, study, and save money you'll eventually reach the top. This is primarily an American ideal, but also very popular with the British middle classes and anyone else who wants to better himself. Unfortunately middle-class Britons know that however successful they may be, they will never be gentlemen...
Aristocrats are the cream of society; stern but caring, almost always wealthy and learned, always polite (especially to women and other inferiors), they are genuinely superior men, and even savages know them as such. Even if an aristocrat goes bad he remains a gentleman; if his crimes are discovered he will commit suicide rather than dishonour his family by standing trial.
Women unfortunately tend to be treated as inferiors, second class citizens who must be protected from physical and moral danger. An adventurous woman is VERY unusual, a cause for sensation and scandal. A woman exerting real authority is almost unheard of, despite the example of Queen Victoria, and suffragettes and other campaigners for women's rights are treated with great suspicion.
Chauvinism, in its original meaning, is rampant. People don't necessarily hate foreigners, but they do treat them as mental and moral inferiors. To quote a satirical treatment of this attitude, from H.M.S. Pinafore:
Some things just aren't done. Chief amongst these is any detailed discussion of sex. Courtship is almost invariably chaperoned, any more intimate contact takes place as in this example:
Speech is usually fairly formal, and is of course always polite. Accents are stereotyped; in Britain members of the working classes always have lovable Cockney accents, or impenetrable country dialects, while the upper classes all have Oxford accents. Scotsmen say "Och aye", "The noo", and "Hoots mon", Welshmen "Look you" and "Boyo", Irish "Begorrah" and "Saints preserve us". America has its own stereotypes; Harvard accents for the upper classes, Brooklyn for the dregs. Only criminals and drunkards swear.
Finally, here are three examples of good and bad roleplaying in the context of these rules. Can you tell them apart?
BY now you should understand the rules. Take another look at the example of game play in the introduction, and try to imagine how you would handle things if you were a player or the referee.
This section is mainly intended for referees. It goes into more details on the running of games, backgrounds and NPCs, plotting, and the use of handouts and other aids. If you are already an experienced referee some of the concepts in this section will be old news; even so, you may find some new ideas.
Players should understand the basic details of the game world: the nature of society (or at least how it appears to the characters), the way in which people are expected to behave, and important things that everyone would be aware of. How do people get to work? Do they NEED to work? If not, why not? Is money used? If not, what has replaced it? What gadgets do people use? What would they like to use? What do they like, hate, or fear?
While there's nothing to stop you giving players a long briefing, or copies of the source material, this can sometimes lead to information overload; players have too many facts to digest, and don't know where to begin. This type of briefing is reminiscent of the "balloon factory" sequence found in some of the less impressive scientific romances - if the world the book described revolved around balloon travel, there would be interminable descriptions of their construction, and of the nature of society as transformed by readily available balloons. Here's an example, set in a generic Communist Utopia:
In this scene Judy wants to establish that the surfacer produces immense heat; it will be important later. She doesn't want to let the players know that the information is important. By presenting it in this way she gives the players the impression that this encounter has been used mainly to slow them. She's also mentioned the way that this setting feels to the characters; the noise and smell of the surfacer, and the light it produces, are more evidence of its vast controlled power.
If every scene appeals to two or three senses you'll find that players visualise events more clearly. This is usually good, but don't spend so long on scene setting that the players become impatient. Here's another example:
Victorians, and to a lesser extent Edwardians, lived in an era when gadgetry was everywhere. No home was complete without knife grinders, elaborate folding tongs, magic lantern projectors, and other useful(?) devices. Although many important inventions date from this era, attics and old patent archives are full of "labour-saving" devices that can't readily be called useful; see FF IX for an article on the subject. Some were practical in their day, some virtually insane. Victorian gadgets are usually over-ornamented, bulky, and heavy. They are often designed with two or three extra functions over and above their main use. Power sources include compressed air (from bellows or pumps), hydraulic pressure, clockwork, coal gas, steam, electrostatic forces, batteries, and muscles. Components are usually made of brass, cast iron, leather, rubber, gutta-percha, whalebone, ivory, glass, or teak. This misplaced ingenuity sometimes found its way into scientific romances, and mentioning or describing these gadgets is often a good way to set the scene. For example:
One last point; a picture is sometimes worth a thousand words - when it's relevant. If you're an artist, consider sketching some of the scenes the players are likely to encounter, or use newspaper and magazine photographs. Maps and other plans are also very helpful. A word of warning; if you only prepare pictures of vital scenes, players will soon start to assume that nothing important is happening if they don't see a picture. A few extra pictures, produced to set the scene at less vital moments, can keep them guessing.
Life is different in a role playing game, and characters don't lead routine lives. They are adventurers, encountering excitement wherever they go. Sinister cultists kill victims on their doorsteps, or decide that an adventurer is the reincarnation of their god. Their airliner is the one that is hijacked, their spaceship the one that picks up a strange alien parasite. They suspect weirdness in the most mundane events, and are usually right. The snag is that the referee has to prepare all this for the players.
Sometimes plot elements are implicit in the game background. Let's take an example set in 1911, a decade after the War Of The Worlds was won by the wrong side. The Martians control the world, and are using their machines to exterminate humans, apart from a few survivors kept as food animals. There are still human enclaves, hiding places where a resistance organisation is gradually acquiring the tools needed to destroy the Martians. Think of a steam-powered version of the resistance organisation in the "Terminator" films. Here the staple plot will be commando-style raids on Martian bases, and attempts to destroy Martian war machines. The aliens aren't invulnerable; cunning booby traps might literally bring a machine to its knees. Long-term goals would be capture of Martian heat rays and other weapons, and discovery of a way to use them safely.
This is fine for one or two sessions, but it won't sustain a long campaign. You can only destroy so many tripods before the novelty wears off. Let's add another plot element; the Martians have implanted electrodes and transmitters in the brains of a few of their prisoners, and brainwashed them to wipe out knowledge of the implants. These spies have been allowed to "escape" to the resistance organisation, where they unconsciously report to the Martians. The Martians use the information to catch raiding parties; they prefer fresh-caught food, not the unhealthy blood of their ageing "cattle". The resistance base is allowed to exist, because the occupants are accomplishing little. The Martians know its exact location, but don't move in because it would cut off their most succulent food supply. Now raids will start to go wrong, and the adventurers may start to suspect a spy in their midst. Throw in more complications; a resistance commander who thinks that one of the adventurers is a spy - possibly correctly. An escapee who is behaving very strangely, but for a completely different reason. Sooner or later someone will realise that escapees knew something about every failed raid. Proving anything will be VERY difficult; the spies don't know that they are spies, and aren't doing anything unusual.
This simple example could be good for several evenings of play. By the time the spies have been dealt with another Martian ploy will be under way, or maybe the resistance leaders will have developed a new plan to destroy the invaders.
Campaigns without these implicit adventure backgrounds pose more difficulties. In an Utopia there is nothing obvious to drive the plot. This may mean that the setting is unsuitable, but a little twisted ingenuity will usually find some cause of conflict. No Utopia can possibly please everyone all the time, and there may be hidden serpents in the Garden of Eden. A good example here is the life of the Eloi in H.G.Wells' "The Time Machine"; apparently living a life of pastoral tranquillity, they were actually preyed on by the subterranean Morlocks. Look at the workers in the film "Metropolis", and contrast their life with that of the managers.
An interesting idea is the Utopia that goes wrong, where everyone is genuinely happy and contented until a flaw in the system starts to generate horrendous problems. The most common example is the revolt plot typified by R.U.R. (Rossum's Universal Robots, by Carel Capek) and the film Westworld; a civilisation where robots do all the work until they decide to run things for themselves. Capek's War With The Newts shows another example of the revolt of an artificially created servant race. An interesting variant is the world where everything is run by machines - trains, planes, ships and cars drive themselves, factories are entirely automated, and every home has cleaning machines and other labour saving devices. Naturally everything is designed so that nothing can go wrong.. go wrong.. go wrong.. - when it does, the adventurers will have to deal with road building machines which don't notice that they are squashing cars, factories that insist on spray-enamelling all intruders, and bed-making machines that fold the occupants as well as the sheets. This example comes from numerous sources; most notably E.M. Forster's The Machine Stops, a gloomy account of the collapse of an over-mechanised civilisation.
For one-off adventures these relatively simple plots will probably satisfy your players. In long campaigns it's better to keep several plot threads on the boil, and bring one to the fore as another ends. These can be entirely separate, or different strands of a very complex design. Here's a breakdown of part of a campaign:
Plots of this complexity need a lot of preparation, but breaking them down into their component streams helps to keep things on track. Some referees also like to run adventures to a timetable, where NPCs will act at a given time unless the adventurers counter their plans; this can be fun if the adventurers are fighting a deadline (such as a bomb that will explode if it isn't found first), but the bookkeeping needed to time journeys and other activities tends to be a little more trouble than it's worth. Timed activities work best over very short periods, where combat rounds can be used; for example, if the adventurers are trying to fight their way out of a burning house before the gas mains explode.
Some groups of players run multi-referee campaigns; they take turns to run the game, but continue to use the same characters throughout - the current referee's character is sent off to the sidelines, or run as an NPC, as best fits the needs of the plot. These games do need to run to strict timetables, so that schemes involving NPCs will come to fruition when the appropriate referee is running the campaign. A simple variant is the use of several separate plot lines, set against a common game background, but with a set of characters for each referee. This method is most often used for superhero games, with each referee essentially running a separate "comic" set in a common world.
Finally, no discussion of plot would be complete without mentioning comedy. Humorous plots are occasionally fun, but a joke that falls flat is worse than no joke at all. Characters with peculiar names and behaviour aren't enough to sustain comedic interest, although the author is aware of one Mafia-based adventure that featured an NPC stool pigeon called Mr. Cream, inserted purely to allow the characters to "ice" Cream.... It's usually better if the humour is an intrinsic part of the situation you're describing. Pratfalls should be avoidable if the characters take a little care. For example, if the referee sets up a situation which should result in three or four characters getting covered with mud, players who think things through should be able to get away unblemished.
Many scientific romances are set around the year 2000, so one possible form of humour is satire of the real world and its public figures, transformed by the game setting. For example, a certain Herr Shwartzenegger appears in an unaccustomed role in the adventure accompanying the first Forgotten Futures sourcebook.
Ignore points when preparing NPCs; if you need someone with all three characteristics at 6 and a dozen high-powered skills, just assume that the character is exceptional. If you want a wimp, set characteristics and skills low. It really doesn't matter, so long as the character makes sense in the context of the adventure, and gives the adventurers a fair chance of survival.
If player characters are the stars of an RPG, NPCs are the supporting cast and extras; some are crucial to the plot, others are cannon fodder. If all are acted to the best of the referee's ability, players shouldn't automatically know who's who - someone who seems unimportant might really be the villain of the piece, while "important" NPCs can be set up as victims or red herrings.
Important NPCs should be prepared as thoroughly as player characters; extras need much less attention, but it's advisable to keep a list of their names, and have an idea of the way that they talk and act. Experienced referees often have a small "repertory company" of prepared NPCs, who can be used as they are needed; here are some examples.
CURLY is bald, 6ft 6in tall, and armed with a crowbar. Quote: "I want a word with you, shorty"
BODY [6], MIND [2], SOUL [2], Brawling [8], Melee Weapons [8]

ERIC is an ex-jockey with a switch-blade knife. Quote: "I reckon it's time I taught you some manners..."
BODY [3], MIND [4], SOUL [1], Brawling [5], Melee Weapons [6], Riding [6]

BIG CECIL is fat, bearded, and a former wrestler. Quote: "When you get out of hospital pay your bills."
BODY [7], MIND [3], SOUL [4], Brawling [10], Martial Arts [8], Thief [5]

LENNY has a deep scar across his throat, and can only talk in a rasping whisper. He uses a knife, and is a sadist. Quote: "Oh, was that your kitten... naughty me."
BODY [4], MIND [3], SOUL [1], Brawling [7], Melee Weapons [7], Thief [4]

DAVE is an unlovable Cockney, heavily tattooed, with a shotgun. Quote: "Puke on my shoes and I'll 'it you again."
BODY [2], MIND [2], SOUL [2], Marksman [6], Brawling [3], Thief [8]
CONSTABLE DICKINSON is fat, near to retirement, and has never solved a serious crime in his life. He loves beer, and is armed with a truncheon, bicycle pump, and the majesty of the law. Quote: "'Ello, 'ello, wot's orl this then?"
BODY [4], MIND [3], SOUL [4], Brawling [5], Melee weapons [5], Acting [6] (comic songs)

DETECTIVE SERGEANT MONDALE is in his mid-thirties, a ruthlessly efficient professional. He doesn't take bribes or frame anyone who doesn't really deserve it. Quote: "They don't like me to hurt prisoners, it messes up the cells..."
BODY [5], MIND [4], SOUL [3], Detective [6], Brawling [8], Melee weapons [7], Marksman [6], Thief [8]

INSPECTOR CAVENDISH is in his early forties, fighting fit, and a connoisseur of the arts. He is scrupulously honest and fair. Quote: "Hmmm... I'd say that this ash was originally Turkish tobacco mixed with a small amount of Peruvian cocaine."
BODY [5], MIND [6], SOUL [4], Artist [7], Detective [8], Scientist [7], Brawling [6], Melee weapons [6], Linguist (German, French, Italian, Welsh, Flemish) [7]
Most NPCs are secondary characters or cannon fodder. Adventures also need a few NPC stars; powerful characters who are the driving force behind the plot. These characters fall into three main groups:
Another type of authority is the information source; a scientist or scholar. They are usually erudite, but rarely get involved in the action. Q, in the James Bond films, is a typical information source. Again, there is usually no need to develop characters far beyond a name and a brief description. Here are examples of both types of authority:
H.R.H. QUEEN VICTORIA (Hip, Hip, Hurrah!) is an important figure in any Victorian campaign. Characters might meet her at an official function, or save her from some dastardly plot. Always regal, she is the Empress of half the world and an inspiration to all normal men and women. She has a will of iron and is totally lacking in fear (she survived at least twenty assassination attempts, some at point-blank range), absolutely convinced that God protects the monarchy and Britain. Quote: "We are most impressed"
BODY [2], MIND [4], SOUL [5], Business [7], Linguist [5] (French, German, Hindi)

X3 is a senior figure in the British Secret Service, once an active agent but now frail and confined to a wheelchair. Almost omniscient in his grasp of the "great game", he controls a vast network of spies and counter-spies. He is highly intuitive, often sensing trouble before there is evidence. Quote: "I can't order you to accept this mission..."
BODY [1], MIND [6], SOUL [7], Artist (miniatures) [9], Business [9], Detective [8], Medium [4], Linguist (German, French, Russian, Hindi) [7], Thief [6]

PROFESSOR FINCH is a leading expert on tropical diseases and toxins. He is preparing a definitive study of snake and insect venoms. There are usually a few jars with nasty-looking live specimens on his desk; sometimes the lids are a little loose. Quote: "Stay quite still while I get a net, it's more frightened than you are."
BODY [4], MIND [6], SOUL [5], Scientist [9], Doctor [5], First Aid [9]
One referee's lovable rogue is another's homicidal maniac. Usually players are reasonably relaxed about the threat of wholesale violence, such as a cunning plan to destroy London, but upset by more personal forms of assault. Here are two simple examples; you are STRONGLY advised to put some work into developing characters of your own!
For considerably more on Heroes, Villains, and melodramatic plots see the appendices below and Forgotten Futures VI.
Home made maps have the advantage of being cheap and showing exactly what you want them to show. This is also their disadvantage; if a map only shows a limited number of locations, players will expect at least one of them to be significant. A map that shows an area in a reasonable amount of (mostly irrelevant) detail is usually better. Wherever possible use real maps, modifying them for the history of your game world as needed. For example, if a campaign is set in London a few years after the War Of The Worlds (the one that mankind won), it's easy to obtain a copy of a real Victorian map and add the Martian excavations on Primrose Hill, the charred remains of Imperial College, and other details. Some commercially published RPGs have included maps of Victorian London; in general the scale is too small to be useful. See below for suppliers of large-scale maps.
With a little research work it's possible to find maps and pictures of "Future cities", showing grandiose plans for architectural projects and city management that never came to pass. These are most often found in old magazines, but collections have been published.
Building plans are easily obtained; just look at a few architectural magazines or textbooks to find plenty of examples. Estate agents (realtors) also sometimes offer plans of the buildings they are selling. Plans are the most common type of handout in commercially published games - if you are involved in this hobby for any length of time, you'll soon accumulate dozens! Naturally some modification may be needed for the circumstances of your game. Needless to say there are numerous maps and plans accompanying the Forgotten Futures adventures
This cutting actually contains two important clues; the fact that the Prince Of Wales unveiled the statue suggests that the Queen might be busy elsewhere, and the last paragraph makes it clear that international rivalries have spurred intense study of Martian technology. The money raised by the Thunder Child trust isn't important in the current scenario, but might be prominent in a later adventure. The advertisement is a red herring. Some other possibilities for text handouts include extracts from books, pages from diaries, letters, business cards and other identity papers (most shopping centres now have useful card-making machines), and official reports.
As already said, pictures are an extremely useful adjunct to any adventure. One obvious source is SF illustrations of the twenties and thirties, when much of the tradition of the Scientific Romance still survived in pulp magazine SF. Work from this period can be found in numerous collections. Films of the era are also visually appealing, and stills are often available; Metropolis, Things To Come, and Just Imagine are particularly good in this respect, but there are many other excellent examples. Some referees like to show players photographs of NPCs; any pictorial magazine should contain all you need. Each of the Forgotten Futures collections is accompanied by numerous illustrations, and there are many more on the FF CD-ROM. Pictures of gadgets are also useful; the author has made good use of a collection of 19th century scientific illustrations and a 1920s scientific instrument catalogue. Material of this type is often surprisingly cheap, especially if you can find a public library selling off old books.
Figures and other models are useful but aren't essential. For most purposes a few men and women in civilian clothing should be ample. Figures made for the games Space 1889 and Call Of Cthulhu tend to be particularly good for Victorian and Edwardian settings, SF figures may be more appropriate in games with futuristic settings. RPG shops mainly sell lead or alloy figures in 25mm scale, but there are plenty of alternatives; plastic figures made for model railways can be quite useful, as can larger scale plastic soldiers and animals, or the smaller figures sold for war games. Toys are almost always cheaper and less fragile than gaming miniatures. Dinosaurs and other large animals are best purchased as plastic models; in Britain the Natural History Museum sells an especially realistic range. Cars and other vehicles are best obtained as toys, not as gaming models, since toys are generally a LOT cheaper. One word of warning; once you start buying these things, it's very hard to stop. The author has several hundred lead figures, dozens of vehicles, and a whole herd of dinosaurs, but generally uses less than a dozen figures for any game! If all of this sounds hideously expensive, there's nothing to stop you using paper cutouts instead of figures; just glue a picture or photograph to a piece of card, and add a bit of wood or a coin as the base. Commercial cardboard figures are rare but do exist, usually supplied as part of game modules; the Cardboard Heroes range formerly manufactured by Steve Jackson Games is still occasionally available, and is highly recommended. Some of the later Forgotten Futures collections include illustrations that are made to be printed and used in this way; again, there are many more on the FF CD-ROM
More exotic props can occasionally be useful, but they are often more trouble than they are worth. Full sized replica daggers and guns look good, but carrying them around most modern cities is asking for trouble. Model airships or spaceships tend to be too large for easy transportation, and you'll get some very strange looks from people who notice what you are carrying...
Some referees like to enhance the mood of a game by playing music that matches its theme. For instance, the music from Jeff Wayne's War Of The Worlds album might be quite effective in a post-invasion game. Ragtime might suit a campaign set in the twenties or thirties, with Gilbert and Sullivan or Souza more appropriate for Victorian adventures. Some players like this idea, others hate it; provided the music doesn't stop people hearing what's going on, it probably doesn't matter.
Finally, one last word of warning; if you need an eerie atmosphere, DON'T try to establish it by drawing the curtains and running the game by the light of a single candle. Extensive tests have revealed that three out of five referees can't read their own notes under these conditions, while one player in eight falls asleep in the dimness, and one in fifty sets fire to something...
Printed versions of the Forgotten Futures rules and of some of the adventure and source material have been published by Heliograph Inc., but they are currently out of print.
British currency is based on a gold standard until 1914, and from 1925 to 1931. Until metrication in 1972 the Pound Sterling (£ or occasionally L) is divided into 20 shillings (s), each worth 12 pence (d). This form of currency is used in most British scientific romances. Occasional references to "LSD" in period fiction refer to money, not drugs!
A very brief summary of a few interesting events from 1890 to 1914, most of which has previously appeared in some of the Forgotten Futures worldbooks.
For example, the conversion of a prince to a frog might normally last a few days. With +3 Difficulty the spell will be permanent. In this context "permanent" always has some sort of loophole; the spell's antidote may be as simple as being touched by cold iron or kissed by a princess, or require some elaborate quest for the ingredients, but there is always a way out.
In campaigns where spells almost always ends at the same time (e.g., after exactly 24 hours, at sunset, at dawn) this table should be ignored. Instead, increase Difficulty considerably to get past this limitation.
Difficulty may also increase if the magician wants to cast the spell at a distance, if the spell is complex or will be unusually difficult to break, if the target is moving or hidden, or if it is to affect several people or a large area.
Difficulty can be reduced if a spell is cast on someone who wants it to work, if several magicians pool their MAGIC (see side text), if the duration of the spell is reduced, or if it is broken down into sections. This last may need some explanation; for example, to turn a prince into a frog, then turn the frog into a silver frog statue, then make the spell permanent might use three separate spells; there is less chance of any given stage going wrong, but the total effort requires three spells, any one of which still has a chance of failure, and is likely to be exhausting and time-consuming.
The time taken to cast a spell can vary from seconds to hours. Use whatever seems most dramatically appropriate: from a few seconds for the sudden appearance of an evil fairy, a curse, and her vanishing, to a few hours for an elaborate magical ceremony to create rain. There isn't necessarily any relationship between the time to cast a spell and its power or complexity; one wizard may spend a week creating a single perfect rose, another ten seconds creating a slightly slipshod magical palace or an equally slipshod curse. Optionally extra-long rituals can reduce the Difficulty of a spell or increase the quality of the result at the referee's discretion.
Optionally any spell can have dramatic special effects added; they don't add to Difficulty, unless they change the actual outcome, but when the spell is used the player must describe the effect. Suitable special effects include sparkling lights, thunder, smoke, pungent smells, and crackles of electricity.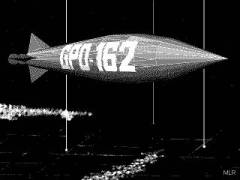 Postal Packet 162
A fast metal-hulled lighter-than-air airship from the world of Kipling's Aerial Board of Control, Postal Packet 162 is owned by the Post Office and used to transport the transatlantic mail. It is essentially a featureless cigar-shape with a detachable carriage holding mail and several sorting clerks who organise the mail in flight. See FF I for the background, details of the propulsion system, etc.
Length: 240 ft (72m), Maximum Width: 37 ft (11m), Length / Width Ratio: 6:1
Lift: 5.5 tons, Maximum Speed: 230 MPH, BODY: 40
3 x 500 HP (1,500 HP) standard turbines, cost £6,300, Gas cost £190, other components £2,800, Total £25,625
Uninsured, risk carried by G.P.O.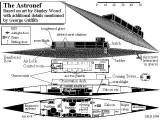 The Astronef
The Astronef is a spacegoing yacht built to accommodate two (or possibly more) passengers in luxury. It has three decks, the upper of which is glass-domed. It flies by the "R" or "Repulsive" force, one of the components of gravity; essentially it presses against the nearest planets, and uses the push to accelerate. See FF II for background, engine design, and other rules.
Yacht, owner Lord Redgrave, completed 1900
British, base Smeaton, Yorkshire
Equipment: Control room, 100 cubic yards 1st class passenger space, 1 x 3rd class cabin, galley, air lock, supplies (26 weeks), 4 x Pneumatic Cannon, 4 x Maxim guns, forward ram, 1 pair atmospheric engines, 1 pair Redgrave Standard developing engines, 2 x searchlights, telescope, 2 x Breathing dress
Hull cigar-shaped, standard plate / armoured glass
Volume 245.4 cubic yards, mass 99.6 tons, BODY 75
Atmospheric speed 138 MPH, difficulty modifier -1
Engine crystals £20,833 (x2), service life 16.6 months, max 5g
Engine cores 1 year capacity, recharge cost £7,402
Cost £177,082, operating cost £3,116 per month.
This luxurious space yacht carries supplies for three occupants for half a year. She was the first spacecraft and is not fitted with a lifeboat (since there was no-one to rescue the occupants). The Astronef is cutting-edge technology for its day, a sleek agile craft with good handling in the air and in space.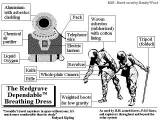 The Redgrave Patent Breathing Dress
Unless they are passengers on the largest liner, all spacefarers inevitably spend some time in breathing dress, or space suits. The design that follows was described in the source material for FF II, and has since also been used in Mummies, The Next Generation and FF IX.
The Redgrave Patent Breathing Dress resembles a diving dress but is much lighter, made of asbestos-cloth lined with rubberised fabric and padded with quilted cotton or lambswool. The helmets are aluminium covered with asbestos, and contain a small telephone. There is a lantern on the chest plate; some models also have helmet lamps. The backpack contains equipment to regulate and recycle liquefied air, released from a cylinder below the pack. Efficiency is very good, with endurance measurable in days. The pressure of air inside the helmet regulates the supply. An airtight collar stops air circulating into the dress, to prevent the material tearing or ballooning until it is impossible to move, but the interior of the suit is not a complete vacuum; a little air is bled in to maintain partial atmospheric pressure and protect the skin and body from vacuum-related injuries such as ruptured veins.
While it is possible to put on a breathing dress in minutes, fittings can take several days. They must be precisely tailored to the wearer's body, and repeatedly tested before they are worn in a vacuum. Long underwear is essential to prevent chafing. For prolonged use it is advisable to wear elasticated underclothes, which help maintain the body's internal pressure.
While the air supply is measurable in days, these suits have no plumbing or drinking water - without them maximum endurance is probably six to eight hours.
Breathing dress reduces the Effect of all blunt weapons by 3, of all sharp weapons by 2. Since the helmet is isolated from the body, the wearer does not automatically suffocate if the suit is damaged, but any damage which actually rips the suit is automatically made worse if there is no air; flesh wounds become injuries, injuries become criticals, and criticals become kills. Double the difficulty of first aid if a suit is ripped. The helmet windows have BODY 3 for purposes of resisting damage.
Because breathing dress is made of asbestos fibre, it gives some limited protection against fire. Reduce the Effect of all fires by 4 for 1D6 rounds.
The backpack has BODY 4. It contains lead-acid batteries, soda lime and other air purifying chemicals, and is linked to a supply of liquefied air. Any damage which affects the pack is likely to have catastrophic results, as the acid reacts with the soda lime or eats through a pipe.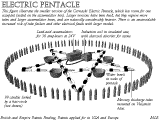 The Carnacki™ Electric Pentacle
An efficient defence against Ab-natural entities (see FF IV), considerably improving on the protection offered by a pentacle alone, developed after disappointing experiments with "bare" pentacles and manufactured under license by the Radium Patent Light Company (RPLC Ltd.) of London. Purchasers included Aleister Crowley and the Psychical Research Society.
The pentacle is an arrangement of mercury discharge tubes wired in parallel, powered by a group of lead-acid accumulators (rechargeable batteries) with an induction coil used to boost the voltage. Induction coils were noted for their noise (a loud buzz), unreliability, and smell of ozone. Carnacki overcame the first and last of these problems by keeping the induction coil in a box surrounded by layers of asbestos wool and absorbent charcoal; the reliability problem could only be overcome by careful maintenance and adjustment.
The kit sold commercially has forty tubes and holders, and is supplied with assembly instructions, four spare tubes, accumulators and an induction coil. It costs £24 19s 11d and weighs 23 lb including the cases.
There is room for one man inside the pentacle, seated on the accumulator box or the floor.
Larger pentacles can be assembled by plugging two or more kits together; Carnacki used as many as four on occasion.
An ordinary chalked or drawn pentacle adds +1 to the Effect of any spell or ritual defending against a purely magical or supernatural attack
The Electric Pentacle raises this to +4 when live, +1 (simply by the presence of an object in this shape) when switched off.
Optionally it also defends against mind control via psionics, telekinesis, etc.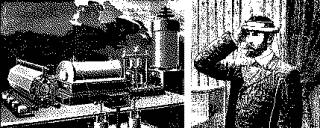 The Psychic Idealiser
Designed as a means of making thoughts visible, the Psychic Idealiser is in fact a means of travel to parallel worlds, invented accidentally by the eccentric philosopher, phrenologist and scientist Dr. Pyotr Plokta (of Utrecht, the Sorbonne, and Imperial College, London) in 1898, as part of an abortive search for the Platonic Ideal.
The main components are a helmet bearing hundreds of fine wire coils arranged around the appropriate "faculties" of the head, mapped by careful phrenological probing. The coils connect to antennae arranged around a circular glass cylinder with a flexible diaphragm at its base, containing a quantity of fine powdered magnesium, an extremely light metal, electrified by a Wimshurst machine. The volunteer is instructed to meditate upon some common object, such as a chair, and try to visualise it in its Ideal form. As he does so a clockwork mechanism vibrates under the diaphragm, throwing the dust into the air of the cylinder.
Plokta hoped that the dust would be controlled by the amplified brain waves of the subject, momentarily adhering to form a crude replica of the Ideal object. Eventually he obtained a fuzzy image of Wren's original design for St. Paul's Cathedral, which differed in many details from the version built. During the next experiment, with more power, he and his assistant suddenly found themselves standing in the plaza in front of the revised cathedral, wearing strangely old-fashioned clothing and with blurry double memories of two lives; their lives in the world where Plokta invented the machine, and in this new world, in which Britain was at war with France and medicine was still waiting for the discovery of germ theory. It was obvious that their personalities had somehow transferred to the bodies of their equivalents in the new world.
Plokta built another machine, hoping that they might return to their original world. In the next St. Paul's Cathedral was much as they remembered, but London was criss-crossed with elevated railways and everyone spoke an Americanised form of English. Neither could stand the pace of this new society, so they built another machine and tried again. And again... Now, a score of worlds later, Plokta has established the basic principles of dimensional travel:
You can't take material things with you; knowledge is another matter. In the fifth world nobody had invented photography; Plokta's assistant took out patents and settled there. Plokta sometimes gains new skills as he moves to a new world; for instance, he has picked up several languages his alter egos learned before he took over.
You can't go back. Plokta has repeatedly tried to return to his original world, or any of the other worlds he has visited. It doesn't work. He believes that the body he leaves behind dies when he transfers to a new world, making it impossible for him to return.
You can only travel to a world where you already exist; on one occasion one of the "guinea-pigs" didn't make contact with Plokta after an experiment, and it subsequently emerged that he had died as a child.
The more people involved, the better it works; with one or two people using the equipment, it may take a dozen tries; with several, it usually works the first or second time. Everyone within a few feet of the equipment transfers to the new world.
Some users forget their change of world within a few minutes. Those who arrive in a better situation than they left are most likely to forget their origins; for example, one subject was a poor clerk with an unhappy marriage in the world he left, a happily married banker in his new identity, and soon forgot his "original" past.
Plokta often notices that the date and time differ by hours, weeks, or even years when he arrives in a new world. He often arrives months earlier than he left - but the history of the worlds involved has been so different that he has rarely been able to take advantage of his knowledge of the future. He is aged appropriately for the date; 40 in 1898, 49 in 1907, and so forth.
Building a new machine is always expensive and difficult; it should take a minimum of 2-3 weeks, and parts must be hand-built to order. Costs vary wildly in different worlds.
Practice makes perfect. As Plokta travels he finds it easier to visualise features of the world he desires; but anything he doesn't imagine seems to be entirely random. Generally speaking, he seems no closer to any Ideal.
Simple changes work best. If a complicated feature is imagined, it tends to be incomplete. A simple feature is most likely to work as planned.
Plokta has now perfected the technique of settling in a new world, raising funds to buy the equipment for another jump, recruiting a few "colleagues" for his next experiment, and travelling on again. He still hopes to find the Ideal eventually. For more on the Idealiser, the worlds it visits, and its effects see FF V.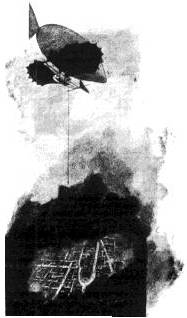 The Aerophane
A semi-rigid airship consisting of a large fish-shaped canvas "envelope" filled with several ballonets of hydrogen. A skeletal metal "car" or gondola below the gas bag carries three passengers, a small petrol engine, and up to a ton of cargo. It literally swims through the air, using two rippling wings of canvas and metal struts for forward (or backward) motion, several steerable sails, and a fishlike tail to steer. It is designed to carry special bombs to precipitate rain and disperse smog. See FF V for more on the circumstances that led to its use.
Aerophanes have a maximum speed of 20 MPH, handle very poorly (especially in wind), and are unsteady in turbulent conditions. Fortunately these problems are rarely a factor when they are used; dense smogs only occur if there is little or no wind.
Each craft carries 25 5lb charges of a new (and highly secret) explosive compound which precipitates rain by shaking it from the clouds. Charges are lowered into the clouds on a wire and detonated electrically. They are generally stable, but may be set off by fire or strong impacts.
Length: 150 ft, Maximum width: 30 ft (excludes wings), Lift: 1.2 tons, 1x 5 HP engine, Speed: 20 MPH
Gasbag BODY 10, Gondola BODY 6
Add 2 to the Difficulty of Pilot skill rolls while flying an aerophane.
The explosive charges are optimised to produce the loudest possible explosion and shock wave to "shake" rain from the clouds.
Rain Bombs, Effect 12, Radius 10 ft, A:B B:KO+F C:KO+I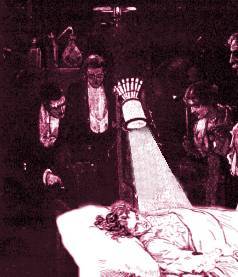 Radium Healing Rays
Healing rays are used to speed the body's own repair processes. The treatment time (in hours) is their Effect, attacking the recovery Difficulty of the injury, any success halves the recovery time. For more on this and other rays see FF VI.
The cumulative time of all treatment within the last month also attacks the BODY of the patient, with the following results:

No effect
F (Severe sunburn which cannot be cured by the ray)
I/C (radiation burns which cannot be cured by the ray)

On a 12 the device burns out and treatment must be stopped.
The referee must keep track of treatments to assess any damage.
If adventurers rely on the ray and taking too many risks, it may be advisable to extend the cumulative period to six months, a year, or even the lifetime dosage.
Optionally the ray operator and anyone else in the room must also make the cumulative roll, but Effect is halved.
Ariel-Class Æronefs
The Ariel and her sister-ships are æronefs, heavier-than-air flying machines built in 1900 by The Terror, an anarchist group dedicated to the overflow of the Tsar and creation of a socialist Utopia. They are built largely of aluminium, with some wood and other metals used where necessary, and designed primarily for war against ground forces, balloons, and other greatly inferior foes. Their primary advantage is Arnold's fuel, an incredibly powerful binary chemical which powers the engines and can give astonishing power-weight and fuel-distance ratios, and is also usable as a powerful explosive. For more about The Terror and its technology, use in combat, etc., see FF VII.
Length: 70ft,, Width 12 ft. wide, with air-planes (wings) 24 ft. wide to either side of the hull and running its length.
Three masts with fan-wheels (vertical propellers). Four engines. Seaworthy hull with ram.
Forward cabin for six men, saloon on deck, and six single cabins aft. Controlled from a conning tower forward and a wheel house aft.
6 crew, 6 officers, wardroom for 12, galley, 7 tons cargo
Four pneumatic guns, two in the bow and two in the stern, with a range of 6 miles. 400 rounds ammunition, small arms, searchlight.
120 MPH, range 12,000 miles, maximum lift 45 tons on fans. Altitude: 3000 ft. cruising, 5000 ft. on fans, 7000 ft. on fans and wings with full emergency power.
30 tons loaded weight, 24 BODY. Cost is 1248 Man-Days, the currency used by The Terror.
Shells (Arnold's explosive) 15ft burst radius, Effect 20, A:I B:C C:K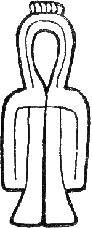 The Amulet, Magical Time Machine
The Amulet is primarily a transport device, but can only take travellers to a place or time where they might be able to find its missing half. Since its existence spans several thousand years this allows plenty of scope, but once complete it loses this ability. When activated (by holding it in the direction of the rising sun and reciting the name inscribed on it, "Ur Hekau Setcheh") the Amulet grows to archway size, allowing travellers to walk to the past or future. For more on this and other magical devices see FF VIII
Users must state a destination (such as Atlantis) and time then pass through in order of age, the eldest first.
The Amulet vanishes and reappears in the hand of the youngest traveller once they have all passed through.
Users of the Amulet are able to understand and speak the language of any place it takes them.
No time passes in the present while users are in the past or future.
Once complete and perfect the Amulet will only allow perfect souls to pass through its arch, and they will not be able to travel through time. This power is used only once, to strip evil from two souls and unite them in one body.
BODY [3/15], MIND [3], SOUL [-], MAGIC [10], Linguist (understands all languages, cannot speak) [7], Scholar (History, Geography, etc.) [8], Wizardry [10]
Wounds: The Amulet is made of some form of granite-hard rock, so is difficult to damage (the two BODY ratings given are for its normal size and its form as a stone archway). Nevertheless a determined attack with a hammer could destroy it in its small form; in its larger form explosives are probably needed.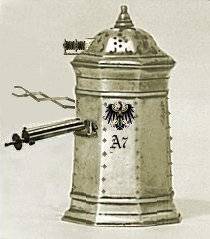 Krupp Stahlwächter
The Krupp Stahlwächter (steel guard) is a Prussian automaton used to protect the Imperial Calculating Engines and other important facilities. For this important job the Prussians have takem the unusual step of adapting the "terrain" to the automata. Sites on which they are used are levelled and surfaced to a high standard, and in buildings ramps replace stairs. This allows the use of a wheeled design with very little ground clearance, the wheels being covered by armour plating. An aluminium chassis minimises weight and electric motors reduce noise. Generally considered successful, although they are slow to react and vulnerable to attacks which damage the "terrain" or push them over; they cannot right themselves. An unusual feature is the telescopic eye, which is moved in and out on bellows and improves the accuracy of marksmanship. The down-side is that the eye has a restricted field of view, so that the automaton is easily attacked from the side, although sites where this model is used are generally designed to limit opportunities for such attacks. For more on these machines and other automata see FF IX.
Military automaton with Swiss-made calculating engine, monochrome "eye" with telescopic lens, single arm, aluminium frame wheeled construction, electric powered, with armour steel casing.
BODY [4], MIND [1], SOUL [-], Athlete (running) [4], Brawling [4], Marksmanship [5 / 6 at long range only], Stealth [2]
Cost: £364, Weight: 236 lb., Carrying Capacity: 108 lb, Endurance: 5 hours, Reaction Time: 9 seconds
Maxim gun, 50 rounds, Armoured: -6 Effect to all attacks
Quote: "Stehenbleiben oder ich schieße!" (Halt or I fire)
German soldiers generally refer to these machines as Pfeffertopfsoldaten, literally "pepper-pot soldiers".

American Eagle (projectile spacecraft)
The American Eagle is a two-seater spacecraft designed to be launched to the Moon by the combination of a train-borne steam catapult and a rocket engine in a three-stage process; it's accelerated to the astonishing speed of 300 MPH by a special steam turbine train, then a steam catapult fires and boosts it to nearly 1000 MPH. As it leaves the catapult a supplementary or "booster" rocket ignites and delivers the remainder of the velocity needed to take it to the Moon. This is basically a "proof of concept" craft, which will be scaled up if it is successful, and if the first flight finds resources valuable enough to make another flight worthwhile. Of course this depends on the resources; if diamonds were found, for example, the craft is large enough for a considerable fortune. See FF IX for more on this and other projectile craft.
2 x 4th class accommodation, supplies 2 x 1 week, hold 1.0 ton 3.0 Yds³, landing gear, rocket / parachutes for return flight.
Projectile 10.6 tons, 31.0 Yds³, £1,550, BODY 50
Booster rocket for above 58.3 tons, 106.0 Yds³, £3,180, BODY 50
Launch train and catapult for above £170,500, expendables £1,700 plus booster.
2 x vacuum suits, prospecting supplies, camera, etc.
Since there is no air lock the occupants must both wear vacuum suits if either leaves the vessel; in flight they must take turns on a bicycle generator to keep batteries charged for lighting and life support.
Replica and reprinted maps are wonderful props for any game, and a useful starting point for "future cities" as they were imagined around the turn of the century. It should be possible to obtain them for most areas; the examples that follow are useful for a British campaign.
These games are, or were, available from most specialist shops.
Historical note: With the exception of various cowboy RPGs, such as TSR's Boot Hill, the first commercial RPG to cover the 19th century in any detail was probably Victorian Adventure by Stephen Smith, published by SKS Distribution. It was intended as a purely historical game, and appeared in Britain around 1982-3, with at least two editions. It was not a success, possibly because readers were put off by unusual typography and layout, possibly because there wasn't much of a market for a purely historical game. Many thanks to Patrick Brady for these details.
Marcus L. Rowland is a London-based technician. In his spare time he has been writing for games magazines and publishers since 1979. Notable works include the following game supplements and adventures: